PathXchange: A global online pathology community


PathXchange | http://www.pathxchange.org
Facebook, LinkedIn, Twitter and YouTube are social media sites that have changed the way we look at our professional and social networks. The pathology industry is no different; technology is revolutionizing the field. In the past decade, the industry has transitioned into the digital age, allowing pathologist to view, manage, manipulate, analyze, report and collaborate using digital slides.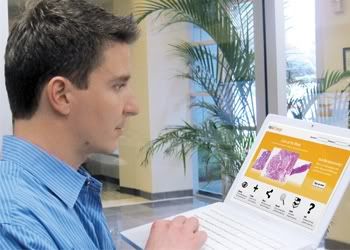 Stay Connected
Technology is revolutionizing the art and science of pathology and the methods used to disseminate information generated by these developments. The move to a digital format has increased the need for pathologists to stay connected with the professional network and keep up-to-date with the latest advances in the field.
PathXchange.org (PX) is a not-for-profit professional networking portal for the global pathology community. This brings the field of pathology into the digital age with Web 2.0 features designed to promote exchange of pathological cases, ideas, knowledge, information, products and services. Cases and information can originate from anywhere, from any platform, and be shared with the sub-groups of users' choice.
Traditionally, community pathology practices are geographically fragmented and small. Social networks, however, can allow a bridging of collaboration and consultation regardless of physical location. Pathologists can digitally scan glass slides and upload them to PX. PathXchange fosters e-learning, digital case sharing and archival, and telepathology, bringing together the eyes and minds of geographically distributed pathologists. The site allows members to collaborate on cases and view slides together in synchronized mode.
Social Tools
Dubbed "Facebook for Pathologists", PX not only allows pathologists to stay connected with their professional network, but also provides access to a number of tools designed to support the exchange of knowledge and ideas, including a case gallery, where members can share cases online by creating their own photo gallery of case slides. The gallery also allows members to browse and search for cases, archive cases in their own library and develop a URL for each case for use in websites, papers and journals.
In addition, case reviews allow case review committee members to review member cases and publish the 'case of the month'. A 'virtual tumor board' affords members access to PX as a platform for conducting tumor boards virtually, without having to be physically present, while 'peer reviews/second opinion' options allow members to selectively submit a case and seek an informal peer review or a formal second opinion from experts through their professional network.
The 'Pro Bono' reviews service from PX sees members being able to review cases from developing nations such as Africa and India, where subsequently they may not exist. Finally, 'e-learning' allows the site to combine several elements, including course galleries, self-assessments and interactive teaching tools to promote community based learning, continued medical education, knowledge sharing and professional networking, while alerts allow members to stay informed of new developments through community feeds.
The PathXchange community has grown to include 4,500 members from 60 countries in nine months since its inception and has become the largest global online pathology community with the largest user contributed digital case library.
---